Training information
Training on the Track 21-06
ATTENTION:
From Wednesday 21th June is the track GLOSED for training.
Starting 2016 there is a replacement for the regular license, the new motorsportlicense:
With the KNMV basic Sportlicense the old districtlicense has a new name and a discoutn price of only € 60,-. Read the information written below and apply for the KNMV basic license.
Note: This license must be requested at home, not previous to the training.
KNMV Basic Sportlicense - 2016

Information new

KNMV Basiclicense

▼

Manual aanvraag

KNMV Basiclicense

▼

Request here

the KNMV Basiclicense to

▼
Note: During the summer time running the training on Wednesday from 15h to 19h and Saturday from 13h to 17h.
Training only for engines as from 85cc.
To be able to train in Lierop, a KNMV basic sport license is mandatory. Licenses from other federations, Dutch or foreign, are not valid voor training on the KNMV circuits. FIM licenses from foreign riders only cover personal accidents, not for liability from third parties.
Apply for a KNMV basic Sportlicense to train the complete year of 2016 on all the KNMV circuits in the Netherlands.
To obtain the license click the above menu 'KNMV Basis licentie'.
To summarize: NO KNMV BASIC SPORT LICENSE MEANS NO PERMISSION TO TRAIN
Train on the Grand Prix circuit is possible on:
Summertime:
Each Saturday of
Each Wednesday of
Telefoon circuit:
Terrein beheerder:
13.00 uur - 16.59 uur
15.00 uur - 18.59 uur
+31 492-33 21 26
+31 493-49 34 22
+31 6-52 54 44 01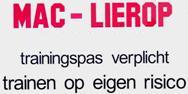 Characteristics:
To train: follow the house rules!!